The youth of India, which is the largest democracy in the world, is revolutionary. Plus they are in huge numbers. India has the second-highest population. 50% of this population is under the age of 25. So you can imagine how large the number is. The population of young people in India increased from 353 million to 450 million in just 10 years. The future of India, and to some extent the world as well, is the Indian youth. They have moved mountains already and are ready to achieve almost anything imaginable. This crowd is unafraid and wants to know more. It wants to explore, build and discover much more than any generation before it. Clearly, since they play such an important part in the development of the world, it is essential that we guide them better. With a limited number of schools offering Master's degrees, there is a need for employability immediately after graduation. This brings us to the topic: what are some of the unique career options in India after graduation? If you are a student who is about to graduate and you're looking for good career options then you have arrived at the right place.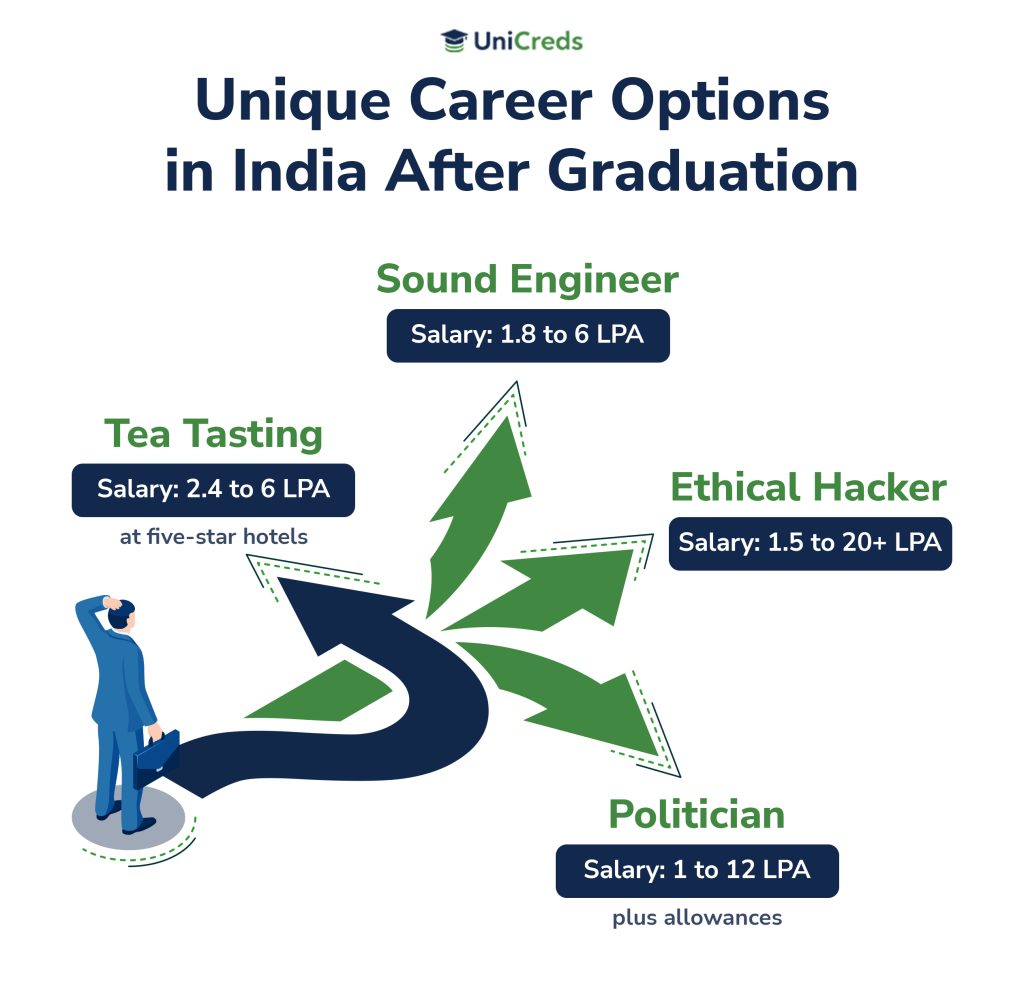 10 Unique Career Opportunities In India
Following is a list of some of the best unique career options in India after graduation. These careers are sure to reach new heights in the future and choosing one of them would be a great decision at this stage. All you need are the basic skills and you'll be good to rock. Without further ado, let's start with the list.
Ethical Hacker
If you have a knack for computers and understand how they work then you are all set to become an ethical hacker. The word 'hacker' is quite misinterpreted by the majority. There are thousands of companies that seek professional hackers to test their internal security and detect loopholes. Even the government has openings for ethical hackers at present. Additionally, it pays well. If you are a person with a technical background then you should definitely consider this one out of all the other high-paying career options in India.
Salary: 1.5 to 20+ LPA
Career Options: Vulnerability Assessor, Information Security Analyst, Security Analyst, Penetration Tester, Certified Ethical Hacker, Security Consultant, Security Engineer or Security Architect and Information Security Manager.
Eligibility Criteria: The certifications required for this unique career option in India after graduation is a Certified Information Systems Security Professional (CISSP), Certified Information Security Manager (CISM), Certified Information Systems Auditor (CISA) and SANS/GIAC Certification.
Photography
With the advent of Instagram, the value of photos has increased drastically. This is why you could easily get a DSLR and set out to capture stunning photos. There are people interested in buying these photographs or else you could sell them to websites such as Shutterstock, Unsplash and Pixabay.
Salary: It takes time to get highly paid but as a fresher, you can expect around 3 LPA.
Career Options: Portrait Photographer, Industrial Photographer, Aerial Photography, News Photographer and Freelance Photographer.
Eligibility Criteria: Students can study for a Bachelor's and Master of Photography. Certifications and internships such as Image and Video Processing: From Mars to Hollywood with a Stop at the Hospital, Photography Course Online, Digital Photography: Creating a Professional Portfolio, Phone Photography: Take Pro Photos on iPhone & Android, Diploma in Photography, Wedding Photography Course, Photography Techniques: Light, Content, and Sharing and Computational Photography can help a student develop the required skills for this career.
Tea Tasting
Most Indians are very particular about the kind of tea they like and the time at which they like to have it. What could be better than tasting awesome teas and getting paid for them? Working as a tea sommelier can be high-paying if you get the right opportunity. The sommelier not only tastes the tea but also gives advice, does branding, and has a good knowledge of cultivation and manufacturing. Along the same lines, you could also become a food flavorist or food reviewer. Aren't these truly one of the best unique career options in India after graduation?
Salary: 2.4 to 6 LPA at five-star hotels
Career Options: Research, Plantation Management, Tea Brokering, Consulting, Plantation, Processing, Auctioning, Branding and Marketing.
Eligibility Criteria: There is no formal tea-tasting course. Although a high school diploma is normally sufficient for tea management jobs, a degree in Agricultural Science, Botany, Food Sciences, Horticulture, or other connected subjects is advantageous. Marketing degrees are also preferred for marketing in tea.
Read About Abroad Education Loan
Politician
If you have strong leadership skills and knowledge of politics then you must give this a shot. Most Indians have this habit of criticising the politicians at least twice a day and expressing their concerns regarding the economy and corruption but no one actually steps up to bring about a change. Becoming a politician is the opportunity to change the way our government functions and modify the laws. This is surely one of the most interesting career options in India.
Salary: 1 to 12 LPA (plus allowances)
Eligibility Criteria: There is no minimum amount of education required to become a politician in India. Degrees in Political Science, Law, Economics, or Journalism allow students to utilise what they have learned for the benefit of the public.
Chef
The way these food-based cooking shows like MasterChef are gaining popularity, it is no surprise that cooking can be a lucrative career too. Cooking is no more the exclusive preserve of bored housewives. It is termed as 'culinary arts' these days. A love for food and a passion for cooking is all you need to get into this domain. The chefs that are really talented get both money and fame in India. It is this reason why becoming a chef is one of the unique career options in India after graduation.
Salary: 2.4 to 25+ LPA
Career Options: Consultant, Cuisine Ship Career, Food Critic/Writers/Journalist, Event Caterer, Cookery Show Host, Cookbook Writer, Sous Chef, Executive Chef or Head Cook, and many more.
Eligibility Criteria: Individuals who want to work as a chef must first earn a degree in the relevant discipline. A degree in hotel management and catering technology from a reputable college will boost your chances of landing a decent job. Those interested in this career path can also enrol in diploma and certificate programmes offered by various institutes throughout the country.
Writer
Well, if you have the ability to write then you should take that up full-time. This profession doesn't need a description. If poems, short-story, blogging, and article writing interest you then the digital world has already opened numerous doors for you.
Salary: 1.8 to 3 LPA as a fresher
Career Options: Technical writer, Senior Technical Writer, Grant Writer, Marketing Communications Specialist, Web Content Manager, Communications Coordinator, etc.
Eligibility Criteria: A Foundation Degree, Higher National Diploma or a degree in Creative Writing, Communications and Media or Journalism is required to become a writer.
Graphic Designer
Writing and graphic designing go hand in hand. If you have good experience with Photoshop, Adobe and Canva then becoming a graphic designer could be a great choice. This career is going to be one of the top career options in India in the near future.
Salary: 2.5+ LPA as a fresher
Career Options: There are many career options for a graphic designer, some of the most popular ones are Brand Identity Design, Marketing & Advertising Design, Web & User Interface Design, Packaging Design, Print & Publication Design, Lettering & Type Design, Graphic Illustration, Data Visualisation & Infographic Design, and many others.
Eligibility Criteria: B.Des in Graphic Design, B.Sc in Graphic Design, B.A. in Graphic Design, M.Des in Graphic Design, Certificate Course in Graphic Design and a Diploma in Graphic Design.
Sound Engineer
Sound technicians, audio engineers, and music mixers are a few popular names in this career field. If you enjoy listening to the music then get ready to work on the technical aspects of the sound now!
Salary: 1.8 to 6 LPA
Career Options: Record Producer, Mastering Engineering, Sound Designer, Assistant Engineer, Mix Engineer, Recording Engineer, Audio Engineer, Studio Manager, Production Assistant, Assistant Engineer, Acoustic Consultant, Digital Remastering Engineer, Live Sound Engineer, Multimedia Developer, Studio Designer and Studio Technician are some of the popular career options.
Eligibility Criteria: The candidates have the option of going for a Bachelor's in Audio Engineering. After passing the requirements for their Bachelor's degree, students can continue to the Master's degree in Sound Engineering. Certificate in Audio and Recording Engineering, Certificate in Creative Media Arts (CCMA) in Digital Sound, Certificate in Audio Production Technology, Certificate in Audio Technology, Diploma in Audio Engineering and Diploma in Recording Arts are some of the courses that students can opt for.
Registered Nurse
Traits such as compassion, empathy and a calm attitude can make you an excellent nurse. Nurses are an effective link between the patient and the doctor. The profession concerns kindness and caring for people suffering from ailments. The health sector is gaining more and more attention these days. This is why the profession is going to reward you well if you opt for it.
Salary: 3.6 to 6 LPA at private or government organisations.
Career Options: Family Nurse Practitioner (FNP), Adult-Gerontology Nurse Practitioner (AGNP), Women's Health Nurse Practitioner (WHNP), Chief Nursing Officer (CNO), Nurse Administrator, Certified Registered Nurse Anesthetist (CRNA), Nurse Educator, Certified Nurse Midwife (CNM), Pain Management Nurse, Telehealth Nurse and many more are some of the career options that you can choose from.
Eligibility Criteria: The required minimum education is a passing grade of 10+2 in science (PCB) and English Core/Elective with a cumulative grade point average of 45% from a recognised board under AISSCE/CBSE/ICSE/SSCE/HSCE or another equivalent Board.
Driving
A decade earlier people would have mocked a driver. However, today drivers earn a handsome amount of money. Get a few cabs registered under Ola and Uber. Remember the role of 'Irfan Khan' in the Piku movie. He was one of the owners and his skills came in handy when he had to handle some really demanding customers to keep the business thriving and in profits.
Salary: 2.4 to 5.5 LPA
Career Options: Tanker Driver, Crude Oil Driver, Driving Instructor, Furniture Delivery Driver, Government Chauffeur, Dump Truck Driver, Tow Truck Driver, Shuttle Driver, Taxi Driver, Mail Carrier, etc are some of the top career options.
Eligibility Criteria: It's important to keep in mind that you must possess a valid driver's licence and pass a driving test in order to qualify for a driver's position. The minimum level of education necessary is often a 10th-grade pass or an equivalent, but it may vary depending on the work function.
How To Pick Your Best Career Option?
It's not surprising that many people wish to discover a career that will be a good fit for them given that the average person spends about one-third of their life working. Learning as much as you can about yourself, your objectives, and the broader work environment is part of choosing a career first. You can start that procedure off with the assistance of the list below that will show you all the tips on how to choose the right career for yourself!
Make A Self-Evaluation
It is wise to take some time for introspection before making any significant decisions. The decision of a career is similar. In this step, you would want to think about your ideal workplace, your preferred line of employment, your ideal coworkers, and other factors.
Determine The Qualities You Have
Next, consider the qualities you must have in a career. They can include anything from location and benefits to income and travel.
Create A List Of Potential Occupations
Start exploring for jobs that sound intriguing or desirable to you after learning more about yourself and your needs in a work. Write down any jobs you don't know much about so you may subsequently research them. You might discover a rewarding job path in the end. Moreover, keep in mind that not all job titles accurately describe the real job. Even if a title doesn't appear appealing, you might be a good fit for the job description.
Do Some Research And Shorten Your List
Once you've looked at positions that piqued your interest, consider doing some study on each one to compile a short list of viable career options. Finding one or two job paths that you are enthusiastic about is the objective.
Receive Instruction And Revamp Your Resume
Once you have reduced your options to one or maybe two professional pathways, you must determine whether you still need to complete extra coursework or get additional credentials. Despite the fact that some firms are open to offering on-the-job training, others prefer to hire people who already meet the qualifications. Examining the job posting in-depth can help you learn more about a particular position.
Discover Employment Opportunities And Submit An Application
Using either a desktop or a mobile device, you can start searching for possibilities on Indeed. Use the "Filter" button to add filters. Next, you can specify your search radius, experience level, and job type (full-time, part-time, contract, etc.).
Other Unique Career Options In India After Graduation
If you are keen on knowing other interesting careers then here are a few of them for you to explore.
Mountaineer
Classical Dancer
Cabin Crew
Bartender
Firefighter
Florist
Park Ranger
Zookeeper
Stylist
Event Planner
Farmer
Architect
FAQs
1.What are the coolest jobs in India?
Photographers, Event Planners, Veterinarians, Chefs, Personal Trainers, Stylists, Digital Marketers, Flavorists, Environmentalists, YouTubers and Florists are some of the coolest occupations in India.
2.What is the most unique career?
The most unique careers are Video Game Designers, Actors, Ski Instructors, Caretakers, Cake Decorators, Florists and Wedding Consultants.
3.Which is the rarest job in India?
The top five rarest jobs in India are Wood Pattern Maker, Geographer, Mathematician, Prosthodontist., Gaming Managers and so on.
4.What are fun high paying jobs?
Some of the fun high paying jobs are Fire Chief, Engineer, Romance Novelist, Cruise Ship Entertainer and Food Scientist.
5.What are some unusual jobs?
Online Dating Ghostwriter, Golf Ball Diver, Hippotherapist, Water Slide Tester, Bed Tester are some of the unusual jobs you might want to know about.
Thank you for reading this blog on – 10 Remarkably Unique Career Options In India After Graduation. If you enjoyed reading this blog then do check out our other blogs as well.