One of the most common hurdles that students face in their journey of studying abroad is proving their English proficiency. For this purpose, most international universities provide a general requirement of proving a students' English proficiency through English Proficiency Tests (EPTs). Most students are confused between PTE vs. IELTS vs. TOEFL and are in a fix when it comes to choosing which test to opt for.
Before we dive into the differences between the three tests let us first learn the basics of EPTs and what these acronyms stand for.
The Basic Structure Of An EPT
Most EPTs test students in four areas and they are: Reading, Writing, Speaking and Listening. All Higher Education Institutions (HEIs) have their own preferences when it comes to establishing the English language requirements. PTE vs. IELTS vs. TOEFL are always the top choices and are battling in offering the best deals to students.
While giving IELTs you have the option of giving a paper based test, you may now opt for a computer based IELTS exam. Similarly, you may appear for a paper-based TOEFL exam if your institute does not accept an iBT or an Internet-Based Test. PTE on the other hand is mostly used for academic purposes and visa verifications predominantly in the UK and New Zealand. However, the major difference between IELTS vs. TOEFL vs. PTE is that PTE has combined its writing and speaking sections into one.
PTE Vs. IELTS Vs. TOEFL – What Do They Stand For?
IELTS
IELTS stands for International English Language Testing System and is one of the most commonly accepted in the UK and Australia and is co-owned by the British Council, Cambridge English Language Assessment and the International Development Program of Australian Universities and Colleges.
TOEFL
After IELTS, the most common EPT is TOEFL and it stands for Test of English as a Foreign Language. The test is developed by the Educational Testing Service (ETS) and is the most widely accepted EPT at par with IELTS. TOEFL is accepted in Canada, the USA, UK and Australia and by over 10,000 universities and institutions around the world.
Also Read: Which Are The UK Universities That Accept Students Without IELTS?
PTE
PTE stands for Persons Test of English and was established by one of the most prominent educational companies. PTE has gained popularity in recent times and is considered as one of the most transparent tests because of low human contact and interaction.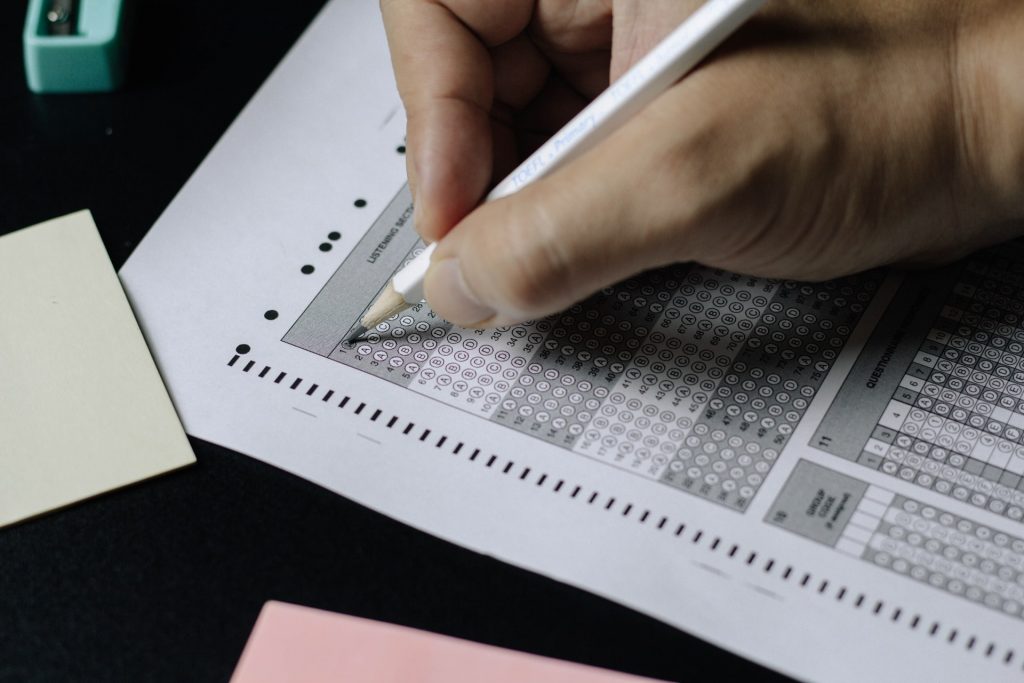 TOEFL Vs. IELTS Vs. PTE – What Is The Structure & Format?
TOEFL Test Pattern
The TOEFL test lasts up to 4 hours in total.
Section
Time
Number of Questions
Reading
60 mins to 80 mins
36 to 56 questions
Listening
60 mins to 90 mins
34 to 51 questions
10 min break
Speaking
20 mins
6 sections
Writing
50 mins
2 sections
IELTS
There are two types of IELTS tests and they are: Academic and General. To get admissions into an HEI, you need to crack the IELTS Academic test for which the structure is as follows:
| | | |
| --- | --- | --- |
| Section | Time | Number of Questions |
| Listening | 30 mins to 40 mins | 40 |
| Reading | 60 mins | 40 |
| Writing | 60 mins | 2 |
| Speaking | 11 mins to 15 mins | 3 parts |
Also Read: GRE Cut-Off Scores For Universities
PTE
| | | |
| --- | --- | --- |
| Section | Time | Number of Questions |
| Speaking & Writing | 77 to 93 mins | 8 parts |
| Reading | 32 to 40 mins | 5 parts |
| Listening | 45 to 57 mins | 8 parts |
PTE. Vs. TOEFL Vs. IELTS – What Is The Cost Difference?
| | |
| --- | --- |
| Test | Price |
| TOEFL | TOEFL iBT: ₹11,265TOEFL PBT: ₹12,577 |
| IELTS Academic | ₹12,650 |
| PTE Academic | ₹13,330 |
We hope you found this article helpful. If you are interested in learning more about international student life, check out the following blogs:
What Is The Difference Between MBA and MIM?
6 Mandatory Things To Do With Your Roommates