Hello! Does your university require you to submit proof of English proficiency to secure admission? It is mandatory in most cases to submit your English test scores for international students applying for English taught programmes at universities abroad. So that you have the essential English abilities to understand academic writing, compose scholarly writing, and interact successfully with your supervisor, you will need to take these tests. This blog will guide you through the most common English proficiency tests you will come across, and how you can go about it!
Common English Proficiency Tests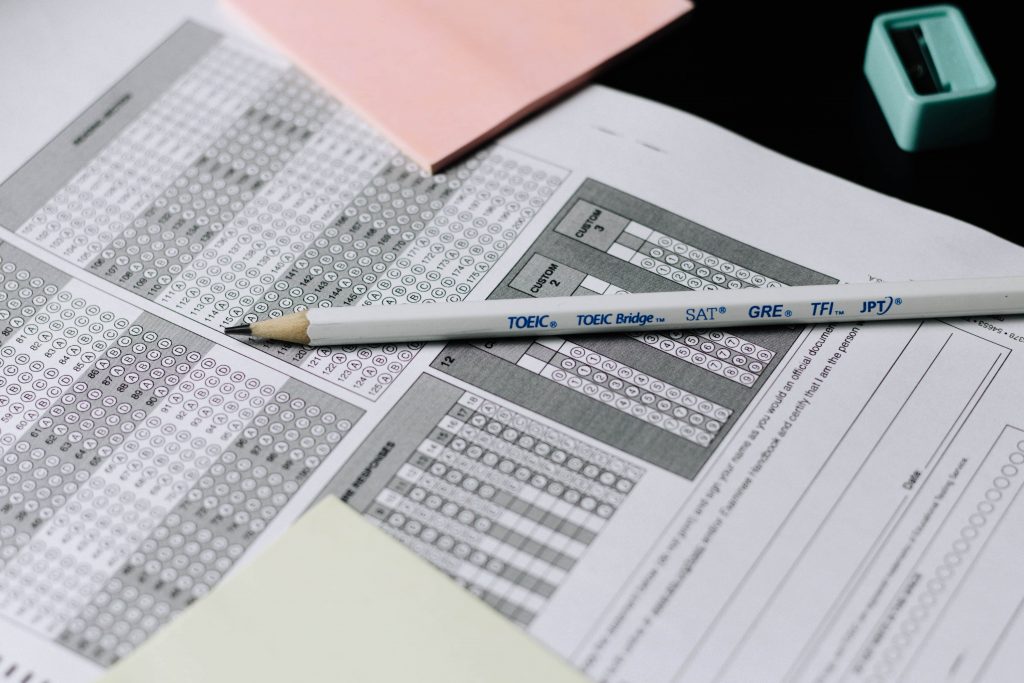 1. IELTS

The International English Language Testing System (IELTS) is a widely accepted English language competency examination. It is handled in collaboration by the British Council, IDP Education, and Cambridge English Language Assessment.
There are 4 parts to an IELTS test, each of which will test your English communication skills. They include:
Reading – 60 mins
Writing – 60 mins
Listening – 30 mins
Speaking – 11 to 14 mins
The whole test should be finished in 2 hours and 45 minutes. IELTS is available in two types: One for students ("Academic") seeking advanced studies and postgraduate degrees, and another for migrants ("General Training") seeking to demonstrate English proficiency as part of their visa or work application.
The reading and writing parts of the exams differ. Academic IELTS includes questions and passages that assess a student's capacity to thrive in an academic or professional setting, whereas General Training IELTS assesses a person's practical, everyday English language skills.
This test has no failing grades, only band scores (0-9). A "0" indicates that you did not take the exam, a "1" indicates that you have little to no ability to use the language, except for a few discrete words or expressions, and a "9" indicates that you are an experienced English speaker with complete operational command of the language.
2. TOEFL

TOEFL is an abbreviation for Test of English as a Foreign Language. That is exactly what it is all about. The TOEFL assesses your reading, listening, speaking, and writing abilities in four parts, each focused on a different skill. The TOEFL includes aspects designed to test each of these skills in a variety of ways.
Overall, your command of the English language will undoubtedly be tested. You may sign up for the exam online, via mail, or by phone. You will then be informed of the day, time, and test facility where you will take the exam. In terms of test centres, there are several options for taking the exam. The TOEFL is available both online and on paper. Your TOEFL scores are valid for two years, and you can request that the Educational Testing Service (ETS), the exam's administrator, submit your scores to the institutions and universities to which you have applied.
3. PTE

The PTE exam is the world's first completely computer-based English language proficiency examination for international education and immigration. The test is designed to measure four skills: reading, writing, listening and speaking.
The test lasts three hours. It focuses on ordinary English rather than high-level English language and assesses your ability to understand the language as it is spoken in everyday situations. The test results in a score on the Global Scale of English (GSE), a multi-level grading system. This scale offers a better comprehension of the student's English competence.

Planning to secure an education loan for your studies abroad? Fill out the form in this blog!
4. Cambridge English Qualifications

Previously known as the University of Cambridge ESOL Examination, the Cambridge English Language Assessment is a non-profit organisation that provides English language certifications at various levels. They provide a variety of tests, but the most common are:
B2 First: B2 first demonstrates that learners possess the language abilities required to converse successfully in an English-speaking setting. Cambridge English Qualifications are available for schools, general and higher education, and business. B2 First is available in two versions: B2 First for Schools, which is designed for school-aged learners, and B2 First, which is designed for general and higher education adult learners.
C1 Advanced: C1 Advanced is aimed at high C1–C2 levels (equivalent to IELTS 6.5–8.0) and is recognised by several British universities as well as over 9,000 educational institutions and corporations worldwide. It takes around 4 hours to complete.
C2 Proficiency: C2 Proficiency is the most advanced exam, classified at the C2 level, which is considerably above the maximum scale of the TOEFL test and comparable to an IELTS score of 8.5 and higher. It takes around 4 hours to finish.
Each of the three English tests (B2 First, C1 Advanced, and C2 Proficiency) is broken into four sections: Reading and Writing in English, Listening, and Speaking. Cambridge certificates are mostly used in the United Kingdom, although they are also recognised by many universities and institutions across the world.
FAQs
Q1) What are English proficiency tests?
For all prospective international students, the English Proficiency Test is a test of their English language proficiency. The Department of Linguistics English Language Institute is in charge of overseeing it.
Q2) What is the best English proficiency test?
The most common and probably the best English language competence test for study, employment, and immigration are the IELTS or International English Language Testing System Test. Participants are evaluated on four different skills—listening, reading, writing, and speaking on this test.
Q3) Is the English proficiency test hard?
Although proficiency is a challenging test, diligent students can easily pass it. You are in an excellent position to pass the exam if you can independently study the book and take many practice exams. Having already completed the First Certificate and Advanced tests will make things simpler.
Q4) How do I prepare for English proficiency?
When it comes to preparing for an English proficiency test; the listening portion of an English test is the most challenging, so consider starting by viewing movies or web series in English and trying to follow along. Read a few English-language novels to improve your speech and comprehension. Additionally, make an effort to speak in English with your friends or someone else who knows the language very well. It shouldn't be difficult to pass the test if you are fluent in both reading and writing English and speaking it properly.
Q5) What is the passing score for an English proficiency test?
Different English proficiency tests have different passing scores. An official testing facility sends the results of a conventional English proficiency exam directly to the test taker. A band score average of at least 6.5 on the International English Language Testing System (IELTS) Test with a minimum band of 5.5 in writing, or a TOEFL iBT score of 79.
Thank you for reading this Guide To English Proficiency Tests. If you're interested in knowing more, check out these blogs –